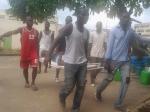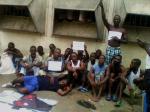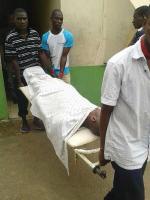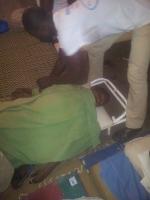 ABIDJAN (Ivory Coast): Since december 1st 2014, the political prisoners are observing an open-ended hunger strike in defense of basic human rights. "The political prisoners began an open-ended hunger strike in Ivorian jails on Monday in protest against being held without any charge. We want to be free", the strickers said to a local Webreporter.
On Tuesday 2nd 2014, the wives and parents of Political prisoners also observed a sit-in in Abidjan-Plateau in order to denounce the detention "without trial" of these political prisoners. Some of them were arrested and released after 6hours of detention.
Yesterday, December 4th 2014, more than 22 weakened hunger-strickers were evacuated to the hospital of MACA.
On friday 05th 2014, at 10am, the Official of SOPCI NGO visited the hunger strickers at MACA, the civil prison of ABIDJAN. After him, a group of ivorian deputies mandated by Soro Guillaume visited the political prisoners. All these visitors found the stricke effectivness. A delegation of United Nations Operation in Cote d'Ivoire (ONUCI) will visit the polical prisoners this afternoon.
At the 5th day of hunger stricke, a polical prisoner told to a local reporter:"we are not in search of death, we are looking for real life."